For the average man, thinning hair and baldness are a fact of life. That's not to say that men enjoy going bald, but only that there's much less of a stigma about it. For women, however, there is a definite stigma that comes with thinning hair and hair loss.
Most women who have thinning hair are understandably concerned and a bit embarrassed by it. These feelings are further instilled due to today's societal norms, where 'beautiful' women are considered to be those with long, luxurious hair. (Not always, and not for everyone, of course, but at the very least a majority.)
But here's a fact that might surprise you: Over 30 million women in the United States will suffer some type of hair loss by the time they reach 35 years of age. That's approximately 1 in every 4 women, which shows that thinning hair and hair loss are most definitely a problem that many women face. It's not spoken about nearly as much as hair loss in men but it is happening and on a large scale.
What Causes Hair Loss in Women?
For the vast majority of women daily hair loss is a fact of life. Most are constantly unclogging their shower drains, especially if they have long hair, and vacuuming it up from all over the house. The good news is that losing some hair every day is 100% normal. On average, you will lose about 80 strands of hair every day, ladies, so definitely don't freak out when you do.
When should you start to freak out? Well, never, but if you start losing significantly more than 80 strands a day you do have the right to be a little freaked. (Hey, men freak out when they lose their hair. Fair is fair.) The important question to ask is why. Why is your hair starting to fall out at a more rapid pace? More importantly, what, if anything, can you do to stop it from happening?
What you need to know is that there are basically two types of hair loss in women, genetic and reactive. Knowing which one is causing your hair loss is a good place to start and will help you to find the best solution to the problem.
Genetic:
Some women will start losing more hair as they get older due to a genetic predisposition. If that's you, as you age you will see a gradual reduction in the volume of your hair. The reason why, ironically, is male hormones. Some, or all, of your hair follicles, will be sensitive to them and, due to this sensitivity, will slowly shrink. This shrinking causes the hair produced by these follicles to be finer and shorter every time a new hair growth cycle star
Reactive:
If a reactive problem is causing your hair loss it means your body is reacting to something. This trigger, whatever it might be, is sometimes difficult to determine. It is usually caused by an internal imbalance in your body due to things like severe stress. It can also be caused by a nutritional imbalance of some sort. This can come from an imbalanced diet or a 'crash' diet. An illness can also cause excessive hair loss, as well as the treatments for some illnesses. (Chemotherapy, for example, triggers hair loss in nearly everyone who goes through this cancer treatment.)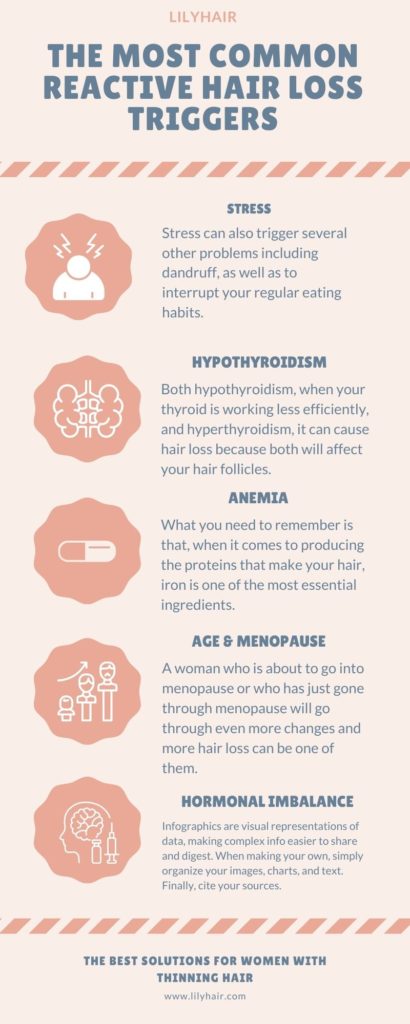 What Are the Most Common Reactive Hair Loss Triggers?
If the hair loss problem that you are suffering is being caused by a reaction to something, one of the next several triggers will likely be the cause. They include:
Stress:
There's an old saying that "stress will make your hair fall out'. Unfortunately, it's true. When you go through a period of extreme stress the male hormone androgen is produced in larger quantities by your body. This, in another ironic twist, can cause your hair to fall out in much larger quantities than normal. Stress can also trigger several other problems including dandruff, as well as to interrupt your regular eating habits. This, in turn, can cause digestive system problems that can also impact your hair follicles and cause more hair loss.
Hypothyroidism & Hyperthyroidism:
One of the most important glands in your body, the thyroid gland regulates your metabolism. It does this by controlling the production of protein as well as determining how much oxygen is needed and/or used in tissues like your skin, which includes your scalp. Both hypothyroidism, when your thyroid is working less efficiently, and hyperthyroidism, when it's working more than it should, can cause hair loss because both will affect your hair follicles. Another problem is that, if you have hypothyroidism but it's left untreated, it can cause anemia, which is next on our list of hair loss triggers.
Anemia (A Deficiency of Iron):
Millions of women suffer from iron deficiency or anemia. What you need to remember is that, when it comes to producing the proteins that make your hair, iron is one of the most essential ingredients. So if you have anemia you will likely also have more hair loss than normal. You should also see your medical doctor to help determine why you have anemia, of course.
Your Age & Menopause:
As we age many changes take place in our bodies and one of them is that our hair gets thinner and shorter. (For many of us it also turns gray too.) A woman who is about to go into menopause or who has just gone through menopause will go through even more changes and more hair loss can be one of them. It's not a given, but it is possible.
Severe Weight Loss:
If you've just been on a very strict diet or gone through a treatment program for illness and lost a lot of weight, losing more hair than normal is not unusual. In most cases, you won't see it right away but about 6 to 12 weeks later. The thing is, although having hair is psychologically very important for women (and, let's be honest, men too), It's not essential when it comes to your physical health and well-being. Because of this fact, if your body is going through major changes like severe weight loss, your hair is the first thing to go because it's simply not a priority.
A Deficiency of Vitamin B12:
Red blood cells carry oxygen to all of the cells and tissues of the body, including the scalp. Vitamin B12 is vital in this process and, when you don't have enough, it can cause several problems including hair loss. B12 deficiency can also make you feel extremely tired all the time and feel like you have no energy, so if you have those symptoms you may need to take a B12 supplement. (More on this below.)
A Hormonal Imbalance:
An imbalance in your hormones can lead to a multiplicity of health problems. The fact is, one of the biggest regulators of your hair growth cycle are hormones including estrogen which scientist describe as "hair-friendly". Estrogen's allow your hair to grow in its growth phase for a longer time so that it can reach its optimal length and thickness. On the other side of the fence are androgen's, male hormones that can radically shorten the growth cycle of your hair.
If you have any type of genetic predisposition to sensitivity in your hair follicles, an excess of androgen's can cause a lot more hair loss than normal. Indeed, any type of hormonal imbalance can affect your hair follicles, so it behooves you to get checked out by a medical doctor to make sure your hormones are balanced. If they aren't, you should ask your Doc what you can do about it.
What Solutions Are There For Your Thinning Hair or Hair Loss?
If you're suffering from thinning hair or seeing a lot more hair loss lately, this is where the good stuff starts! Below we'll give you all of the best solutions to your thinning hair or hair loss problem. Keep in mind that it's always a good idea to talk with your medical doctor or a certified nutritionist before you do anything that involves supplementation. That way, you can make sure that anything you do is not going to negatively affect your health.
First, Recognize That You Have a Problem:
Here's a fact: hair loss doesn't happen overnight. Your hair grows out in cycles and, if something is triggering your hair loss, it might not be noticeable for up to three months. We recommend that, if you're seeing excessive hair loss for more than three months, you visit your medical doctor to make sure that you don't have an underlying problem that should be taken care of. Another thing to keep in mind is that, in many cases, excessive hair shedding will go away on its own once any internal imbalance or trigger is corrected.
Start Taking Vitamin Supplements:
While it's always better to eat a healthy diet full of the vitamins and minerals that your body needs, sometimes it's just not possible to get enough. Unfortunately, food today has lost much of its potent vitamins and minerals and so getting enough of them in a regular diet is almost impossible. The next best thing is to take a vitamin supplement.
There are certain things that you need to look for when purchasing a vitamin supplement. First, you should always look for the very best quality, which means reading the label and determining where your supplement was manufactured. Also, for hair loss, you need a supplement that includes the following;
Copper
Iron
L-Lysine (an essential amino acid)
L-Methionine (an essential amino acid)
Vitamin B12
Vitamin C
Vitamin D3
Selenium
Zinc
Look Closely at The Food You Eat (Or Don't Eat):
Many vegetarians suffer from hair loss because they don't get enough protein. The fact is, hair is made from protein and your body also needs protein for a lot of other processes that can affect your scalp. You don't need to eat meat to get protein, however, Nuts, quinoa, eggs, tofu, and cheese all have large amounts of protein. Spinach and kale do as well and don't forget the magnificent bean. (Any bean you pick will have plenty of protein.)
Your hair also needs quite a bit of energy to grow full and thick so that means eating healthy complex carbohydrates. They can come from a variety of things including fresh fruit and any type of whole wheat products like whole wheat crackers or whole wheat bread.
Don't Stress Your Hair With Styling:
A lot of hairstyles that women use place undue stress on the strands of their hair. If that's you, you might want to consider skipping that top-knot that you put in your hair. (It puts a lot of stress on it!) Also, there are a lot of styling creams and serums that are quite heavy. They can add a lot of weight to your hair which can stress it out and cause it to fall out more than normal.
Consider a Wig and Hair Extensions:
If your hair loss problem is caused by factors that are out of your control, you're waiting for your hair to grow back or you know that it won't, don't despair. There are hairpieces for women that look amazingly natural and beautiful. Wigs, hair toppers, and hair extensions from Lilyhair are made with 100% full-cuticle virgin human hair and come in an astounding variety of colors and cuts.
The best part about hairpieces for women is that they give you the hair, and hairstyle, that you want in minutes. You don't have to spend hours curling, straightening, or styling your hair because it's already been done! Long, black and straight, short, blonde and curly or mid-length, red and wavy, you can match your hair to any occasion or style and be ready to go in minutes!
There Is Help For Your Hair Loss:
We hope that this article gave you the information that you wanted and has helped you on your way to a hair loss solution. We're Lilyhair and we know how important it is to have beautiful hair. If your hair loss problem is making you feel less than your best, please contact us. We'll give you our best advice and tell you about all of the beautiful hair options that we can provide. We look forward to hearing from you!